<![if !vml]>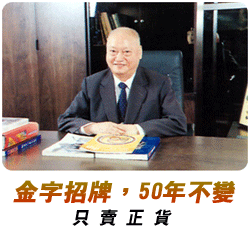 <![endif]>To a pessimist, the Chinese character "crisis" means danger and calamity. However, to a positive-thinking person, the word is a source of power. Does the symbol on top of the Chinese character 「危」 look like another Chinese character 「力」but deformed after it has exhausted its power? When looked at this way, the word "crisis" can be considered as a character that traps 「厄」inside of it with last breath. The latest interpretation of the word "crisis" is that without crises there are no opportunities. In fact, it is an alternative encouragement. If a real case is needed to demonstrate this new aspect, the success of Mr Luk, who is well known in the metals industry, and his KTB Ltd. began with the word "crisis.
Shanghai merchant turned crisis into a favourable development
Established more than 50 years, the success of its founder Mr Chen Luk and its second-generation management team is the result of continuous conscientiousness to survive during adversary and dangerous environment.
Before China became a People's Republic, Mr Chen Luk was already a successful merchant in the then thriving Shanghai city due to his bravery and insight. He traded in daily necessity goods such as bicycles and tyres which were considered contrabands by the Japanese occupation authorities. In 1949, he began dealing in axles in Shanghai for the reason that these products were necessary in manufacturing. Of course, the products dubbed as「啤令」by Hong Kong people gave him the first taste of success. This is the reason why he gave his first son the name「培林」which sounds like 「啤令」when spoken in Mandarin. Sensing the political instability, Mr Luk came to a new place Hong Kong in 1953 to start it all over. Arriving in Hong Kong, he went back to his old business - trading in bearings.
In 1956, he invested 50 thousand dollars in Central District to begin Bearing Business.
Working hard to turn crises into opportunities
At that time, most of the bearings were handled without an agent but through foreign-owned trading houses call "HONG", people in this business had to share the profit with these trading houses and had to avoid locking too much money in inventory. Because of this, Mr Luk worked much harder than anyone. He was willing to match every order each time by adding to his inventory to ensure his shop had just enough inventory without tying capital in it. He knew that he had to rely on foreign-owned trading houses to keep his business going by selling in bulk for small but more frequent returns, despite that they would share his profit. In fact, foreign bearings suppliers wanted to sell direct to users bypassing foreign-owned trading houses, but the agency system did not exist then. Later, Mr Luk took advantage of low interest rates to buy directly from overseas manufacturers, marking a beginning for KTB Ltd.as an agent for famous bearings bands. Because of courage and insight, he further increased his stock when Hong Kong dollar interest rates were low and foreign currencies rose in value. As a result, Mr Luk made considerable extra profits.
Order sizes of bearings at that time varied significantly, sometimes in an amount of a few thousands, sometimes in a 5-digit figure. Therefore, businessmen would not hold too much inventory. Likewise, delivery lead times also varied a lot, from 2 to 3 months to 6 months or even 1 year. Mr Luk thought to himself that to win in this business, he needed a variety of products to avoid lack of products so that customers would repeat purchase. Since then,, he made it a motto for the company that there must always be a complete line of products to fulfil every customer's demand.
A Suave businessman better than a miser
It is unusual to have no crises in doing business. It is particularly so if business is getting bigger.
Riots occurred in Hong Kong; Mr. Luk not only traded in bearings but also acted as agent for manufacturing machines. Small and light industries began to take off in Hong Kong and other Southeast Asian countries at the time. Orders flooded in like snowflakes. No sooner had the machines arrived than they were put on freight for shipment. It can be said that Mr Luk's family expanded further because of a crisis. Luck did count but working so hard in 360 days a year is rare.
Perseverance is important in business. Because of this attitude, KTB overcame another crisis.
Tackling dishonest businessmen from China
The opening up of China's market should not be good news to companies like KTB. Even the CEPA cannot help them. As a matter of fact, growing demand for bearings due to industrialization in China fostered a domestic imported bearing market. This without doubt affected Hong Kong's companies that sold the same. However, KTB instead of seeing its business shrink grew further.
Although the threat came from China, it took a Chinese to resolve it. Since there was a huge demand for bearings in China, the market was full of counterfeits. Some counterfeits traded as steel bearings but they were really made of ordinary iron. These counterfeits posed great danger to and ruined the machines. If the machines broke down, production has to stop. Factories selling these machines can bear the time and money to repair them but for those who need the machines for production will suffer not only money and time but also reputation. The cause of these problems is merely an inferior bearing.
The Second Generation decided to take the business further north in China for long term growth in spite of the fact that KTB has already built a good reputation in Southern China.
The new management believes key to a successful business is to listen to good advice but only those who work conscientiously can attain real success.
Caption:
KTB is the agent for many world-famous bearings, including German brands (FAG, INA, GMN, STIEBER, RINGSPANN),British brands (RHP, WESTON, COOPER, SNFA), French brands (SNR, NADELLA), Swiss brands (RMB, WIB), American brands (TIMKEN, TORRINGTON, MORSE, FAFNIR, MRC, McGILL, RBC, DODGE, SMITH, KAYDON, LINK-BELT, LOVEJOY) and Japanese brands (NSK, IKO, EZO, OZAK, JAF, FYH, TSUBAKI, MTR, DAIDO). In the very beginning, the Japanese came to ask Mr Luk's family to be their agent. No one then had ever thought about that the quality of Japanese brands could one day surpassed that of the American or European brands.
KTB's second generation management team, inheriting their father's hard working attitude while injecting dynamics and new way of thinking into the group.